A proud place of
work since 1870.
Learn more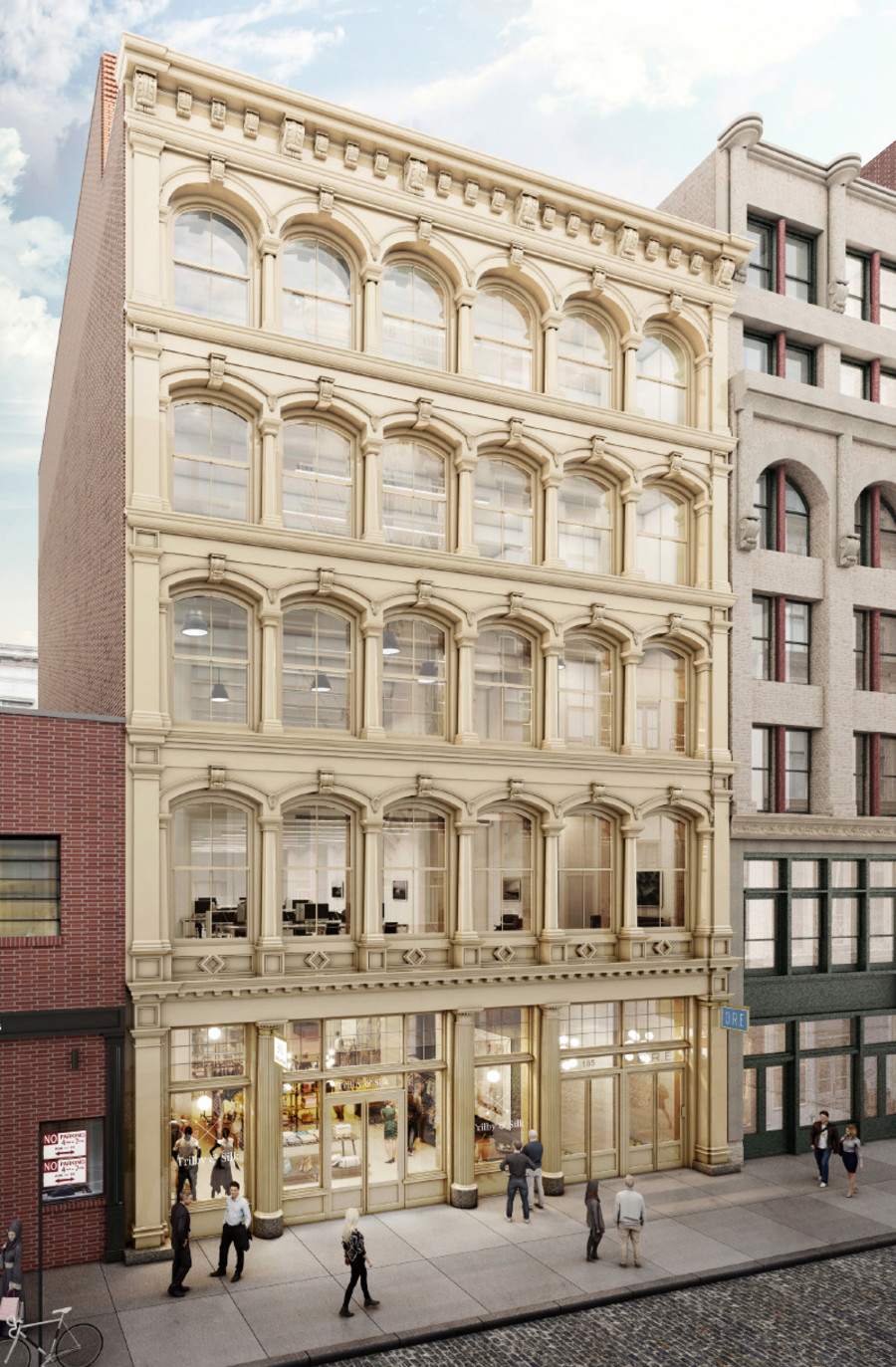 Originally built to house factories, 165 Mercer is now the home of two floors of flagship retail and four offices over five floors, including a penthouse duplex.
---
By the 1920s, automobiles became more common and the building was converted into a parking garage. Its iconic sign has been a fixture of SoHo for decades. 165 Mercer has a 147 year tradition of working hard.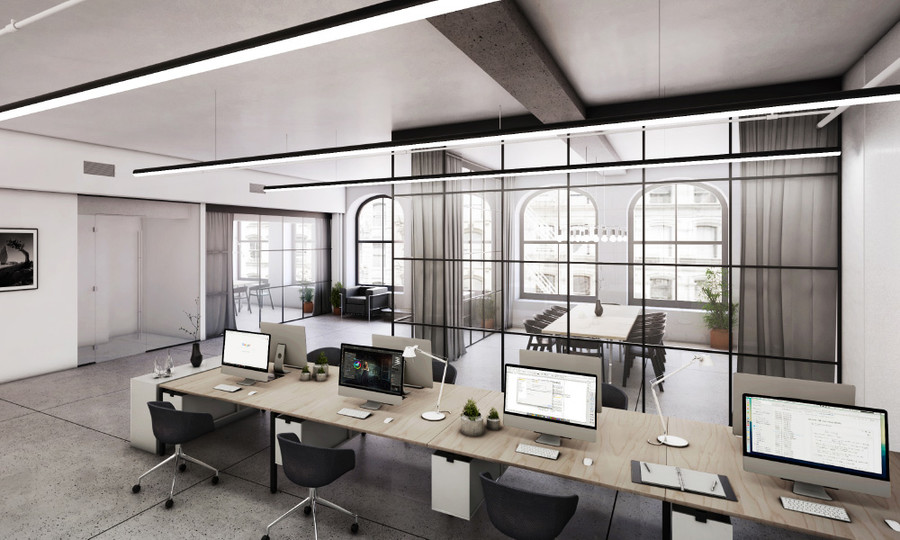 Modern offices in a classic SoHo space.
Preserving the best of period details and the iconic feel of a 19th century SoHo cast iron building, 165 Mercer has undergone a full renovation. With only four offices available, the spaces are of limited quantity and meticulously considered quality.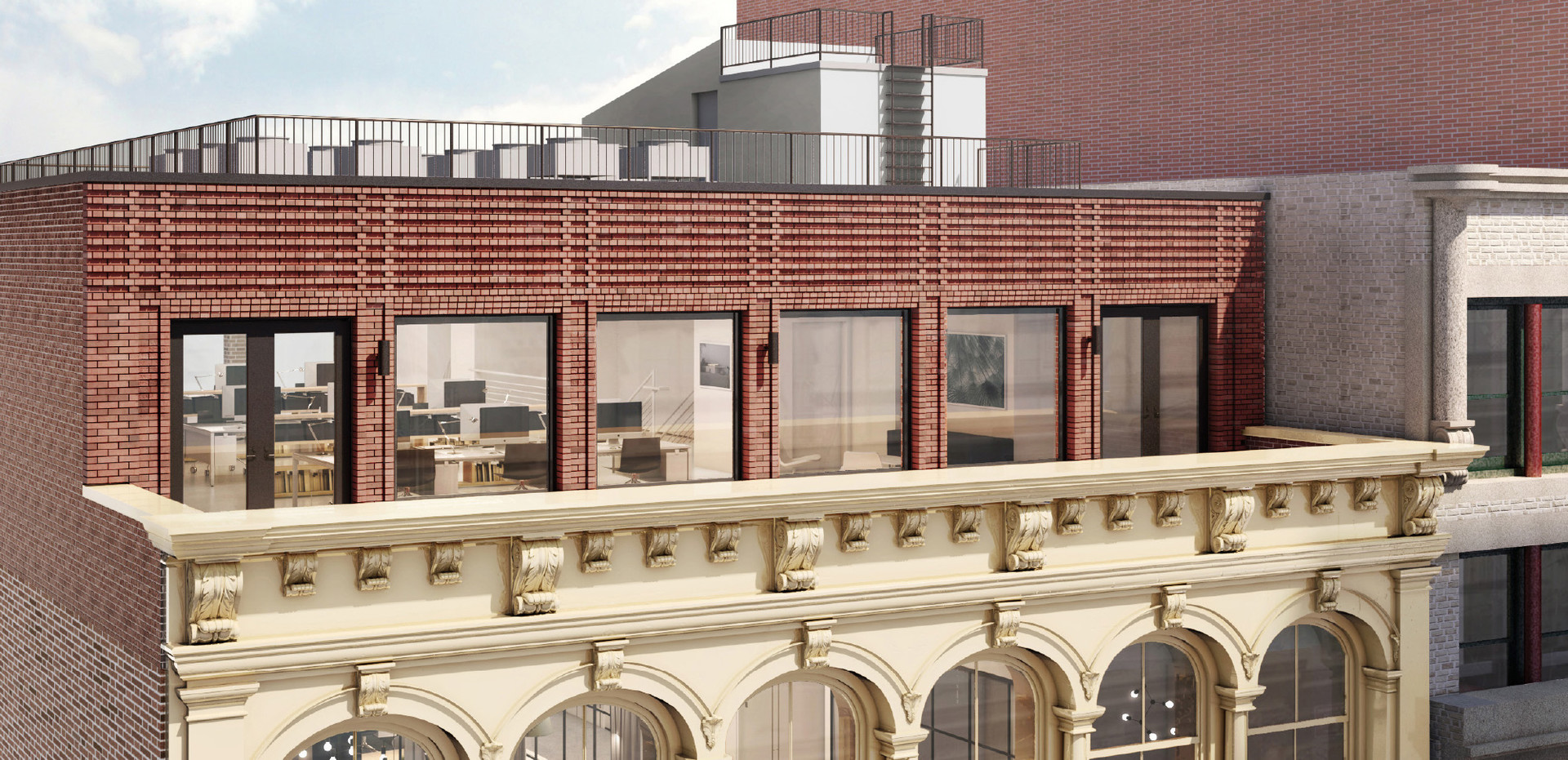 The Penthouse
New construction perched on top of classic cast iron, the penthouse duplex pairs open workspace with an exclusive retreat above.
Features
STRUCTURE

Existing steel & concrete deck with new steel framed addition.

ACCESSIBILITY

Fully ADA compliant.
CCTV video surveillance and Visitor Management Systems.

TENANT ACCESS

24 hour/day lobby access

DATA/IT

State of the art flexible base-building communications infrastructure with redundant, diverse carrier service entrance facilities, redundant base building telecommunication backbone/distribution systems with redundant communications distribution closets on each tenant floor and pre-installed distribution pathways to serve each tenant spaceBase building provisions will enable fully redundant and diverse connections to tenants from multiple service providers for point-to-point WAN and co-location connectivity, robust Internet access, and flexible voice and data options.

ELEVATOR

One (1) 4,000 LB Capacity MRL Passenger Elevator.

HVAC

Space conditioning is provided to the office spaces through the use of a Variable Refrigerant Flow (VRF) system (2.4 tons per 1,000 RSF). Outside Air is supplied to each of the two indoor VRF units on each floor by a dedicated Outside Air fan for each individual unit. Every bathroom on the property is ventilated by a dedicated exhaust fan.

ELECTRIC

New 120/208-Volt, 3-Phase and 4-Wire electrical service provided to one 400 A panel installed on each floor to power all mechanical and lighting equipment as well as various receptacles throughout the building.

PLUMBING

Domestic cold water is supplied to each floor of the building through the use of a 50 GPM Booster Pump rated for 130 TDH. Hot Water is produced by 6 gallon ceiling mounted electric water heaters installed on each floor.

LIFE SAFETY

Fully sprinklered with open grid spacing.

ADDITIONAL FEATURES

Fully restored Landmarks approved, cast iron facade with new wood windows and new wood storefront system.

Office units are delivered with full distribution, allowing for plug-and-play office suites including designer bathrooms and kitchenettes echoing the builidings modern sensibilities in a historic setting.

The Duplex unit has 300 SF of private terraces available.
+ PENTHOUSE — 4156 SF

+
EXTERIOR
TERRACE

FIFTH FLOOR — OFFICE
4,897 RSF

FOURTH FLOOR — OFFICE
4,897 RSF
THIRD FLOOR — OFFICE
4,897 RSF
SECOND FLOOR — OFFICE
4,897 RSF
GROUND FLOOR — RETAIL
4,020 RSF
CELLAR — RETAIL
3,200 RSF
A cobblestone street, and Mercer's best block.
165 Mercer is uniquely situated steps from the best of SoHo. A few blocks in any direction will take you anywhere you'll need to go.
1. DRINKS AND OYSTERS

2. BROKEN PHONE

3. THE RIGHT LIGHT

4. ANNIVERSARY GIFT

5. BEST STEAK AU POIVRE

6. NEW GLASSES

7. DINNER WITH CLIENTS

8. A MODERN ART ICON

9. HANDMADE FURNITURE

10. LEGENDARY SANDWICHES

11. GROCERIES

12. COFFEE LIKE A LOCAL
The team
Flank

Founded in 2002, Flank was formed as a design and development firm committed to making meaningful contributions to the built environment. Partners Jon Kully and Mick Walsdorf envisioned a vertically integrated practice that controlled the total real estate process — from concept to programming, architecture, development, marketing, and sales. Completed work reflects the firm's commitment to design, livability, and architectural achievement.

CBRE (Retail)

CBRE is the number one advisory and transactions firm in the world, and offers unique insight, experience and solutions to serve the needs of real estate occupiers and investors. For every engagement in every market across the globe, CBRE's strategy-led approach seamlessly brings together their advisory services and leading execution services to provide their clients with the information they need to anticipate opportunities, seize competitive advantage and execute the best possible real estate strategies.

Cushman & Wakefield (Office)

Cushman & Wakefield is a leading global real estate services firm that helps clients transform the way people work, shop, and live. Our 45,000 employees in more than 70 countries help occupiers and investors optimize the value of their real estate by combining our global perspective and deep local knowledge with an impressive platform of real estate solutions. Cushman & Wakefield is among the largest commercial real estate services firms with revenue of $6 billion across core services of agency leasing, asset services, capital markets, facility services (C&W Services), global occupier services, investment & asset management (DTZ Investors), project & development services, tenant representation, and valuation & advisory. 2017 marks the 100-year anniversary of the Cushman & Wakefield brand. 100 years of taking our clients' ideas and putting them into action.

Creech

Founded in 2016, Creech is a full service brand studio encompassing the disciplines of graphic design, art direction, advertising, branding and brand language.